Handbags and More
Girls Purse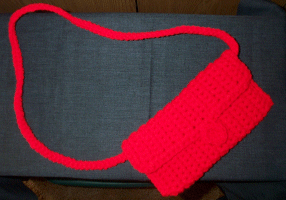 Materials
About 6 oz. of 4-ply yarn---color/colors of your choice
I hook
Note
*Entire purse is worked holding 2 strains together. The only thing that is not 2 strains is the button.
*You can make this any size you want. I just happened to do this one for my 5 year old twins.
Ch 30,
Row 1: Sc in 2nd ch from hook and in each ch across, ch 1, turn.
Row 2: Sc in each st across, ch 1, turn.
Rows 3-22: Sc in each st across, ch 1, turn. At the end of last row fasten off.
Button - 1 strain yarn only.
Rnd 1: ch 2, 6 sc in 2nd ch from hook.
Rnd 2: 2 sc in each st around, sl st in next st, fasten off leaving a length for sewing.
Get your one crocheted piece, turn it were it is long ways. Fold it a little more then half way. You should have about 2" or so to use as a flap. Center button on the front towards bottom. Once you do ths sew it in place. This will be easier to so on now instead of later.
Keeping this piece folded, working through all thicknesses and working on the right side, join 2 strains yarn in bottom corner, Sc in same st, sc up the side and across the top and back down the other side making sure you put 3 sc in each top corner. Fasten off.
Fold your flap down, finding about 3 sts in the center, put hook into st, chain of about 8, sk nest st, sl st in next st, fasten off. This will be the loop for putting around the button.
Strap
Join with sl st in top of seam on one side, chain 100 or desired chain, sl st in the top of opposite seam, turn, sl st in each ch across, join. Fasten off and hide ends.

For any questions or comments